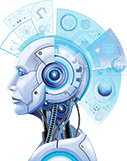 How to transform into an AI-driven business
Taking the right steps when bringing artificial intelligence (AI) into your business will achieve a significant competitive advantage and all the benefits digital transformation offers
If your business hasn't already taken the first steps to becoming AI-driven it needs to start today. AI's effect on the global economy is going to be enormous. A Harvard Business Review report claims $13 trillion over the next decade – far more than JP Morgan's 2017 estimate that GDP will increase by more than $1.1 trillion by 2027. Most recently, PwC calculate that AI will add $15.7 trillion to the worldwide economy by 2030. The growing estimates demonstrate that AI will significantly influence future economic growth. But how? Its the relationship between AI and data. AI is highly efficient at processing and analysing data. It does it far more quickly than a human can and allows your business to benefit from Big Data analysis. This augments a human's ability to make better decisions by leveraging previously untapped data sources. AI increases the Business Intelligence and ensures future competitiveness. It can transform both the client and employee experience by simplifying and automating processes. AI can also transform a wide range of revenue-generating as well as middle- and back-office operations. An MIT Sloan Management Review and Boston Consulting Group study further underlines AI's benefits. 84% of respondents expect to sustain or achieve a competitive advantage by using AI to increase Business Intelligence. 83% have made AI a business priority and 75% believe the technology will enable them to move into new businesses. But viewing AI as a plug-and-play technology with immediate returns is a mistake. The opportunities AI offers requires changes to how most businesses work. There needs to be a shift away from focussing on distinct business problems, like improving customer segmentation, to bigger challenges like optimising the entire customer journey. To get the most out of AI requires adapting the company's culture as well as educating everyone.
THE 'MUST DO' LIST FOR AI SUCCESS
Firstly, interdisciplinary collaboration is important and creating cross-functional teams is essential. A mix of skills where operational people work alongside analytics experts and data scientists ensures the biggest impact. Secondly, move to data-driven decision making. Augmenting judgement with an algorithm's recommendations produces better answers than a machine or human can make individually. But taking these steps requires the biggest cultural change. AI-driven enterprises must abandon the traditional top-down approach to decision making and trust the recommendations made by the neural networks. If an employee still needs approval before acting on a recommendation made by tools driven by Machine Learning the impact is diluted. Thirdly, be adaptable and experiment with your AI strategy. Insisting that a business tool has every desired feature before deployment reduces long-term impact. AI applications rarely provide all the desired functionality in the first iteration. The test-and-learn approach generates early user feedback which allows correction of minor issues before they become costly problems. Development speeds up and reduces the distance to reaching a minimum viable product (MVP). Identifying unique barriers to change is also essential.
EDUCATE EVERYONE IN YOUR BUSINESS ABOUT AI
Leading by example is as important today as it was when first identified as a key to success. For successful AI adoption at your business everyone needs to be educated on it from the very top down. Firstly, senior execs need a high-level understanding of how AI works to better identify AI opportunities. Marrying their industry experience with knowledge about AI helps them to estimate the impact on workers' roles more easily. This will also help them to identify barriers to adoption and better inform talent development requirements and guide the cultural changes needed. Secondly, strategic decision makers, like marketers, may require high-level training using real business scenarios that show how the tools improve decision making about advertising campaigns. The educational effort in these two layers of management has a direct influence on the increase in the overall Business Intelligence in the company. However, it's the pace at which that knowledge is applied that dictates the speed at which Business Intelligence increases. Thirdly, for front-line workers a general introduction to the tools is enough with on-the-job training in how to use them. AI transformations can take months to complete which may result in a loss of momentum during implementation especially if results are not immediate. To prevent this, leaders must actively encourage the new ways of working.